This monthly series creates space for queer performers to take risks, try out new work, and co-create creative community!
Date & Time: Sunday April 5th. Doors 6.30, show 7pm.
Location:Â Branded Saloon, at the corner of Vanderbilt Ave. and Bergen St. in Prospect Heights, Brooklyn.
Accessibility info:Â Branded Saloon has a wheelchair accessible entrance and an accessible bathroom. However, please note the Peepshow does tend to get very full, and very quickly, limiting mobility within the space. In order to best secure a seat, it's advised that you arrive at least 15 minutes between door time. If you aren't able to, please feel free to message an organizer to reserve a spot! Or email us at heelsonwheelsroadshow at gmail.
We expect this Peepshow to be very full as always. Please be courteous of your fellow attendees and take care to move consciously within the space, recognizing the various ability levels in attendance
To provide a more fragrance-aware event, we request that all attendees please refrain from wearing perfume, cologne, or other scented or chemical products to the event. For more info on what that looks like:Â http://www.brownstargirl.org/blog/fragrance-free-femme-of-colour-realness-draft-15
$Cost$:Â $3-$10 sliding scale, no one ever turned away for lack of funds. Artists are paid by the door split.
Mariana Valencia:
A dance, costume, installation and zine artist, Valencia's work has been presented in New York, Chicago, Philadelphia, Massachusetts and Los Angeles. During 2014, Mariana was Artist-in-Residence at Chez Bushwick, New York Live Arts, Show Box L.A., Pieter Pasd and Issue Project Room. Her choreography and research have been supported by funds from the Yellow House Fund of the Tides Foundation from 2010-13 and she is a Jerome Travel and Study Grant fellow for 2014-16, which will take her to Mexico City to research the queer subculture of Cumbia Sonidera. She has costumed for Jen Rosenblit, Vanessa Anspaugh, Geo Wyeth and Lauren Bakst. As a performer, collaborators include musician Jules Gimbrone, dance artist Kim Brandt and video artists Elizabeth Orr and Kate Brandt.
Lizzie Busch:
Lizzie is a queer femme Jewess who likes to write prayers and poems about food, interdependence and butches. She is in grad school learning about budgeting and is a member of Jews for Racial and Economic Justice. She is currently working on a midrashic interpretation of "Fantasy" by Mariah Carey and would like to write an essay about the relationship between space time travel and fisting.
Bianca Laureano and TRUE:
TRUE wears many hats; producer, director, screenwriter, and owner of an independent production company called TRUEstories PRODUCTIONS.
He studied at Sarah Lawrence College and The Art School of the Cooper Union for the Advancement of Science and Art, and has taught and / or spoken at Cooper Union, New School University, Parsons School of Design, Pratt Institute, Rhode Island School of Design, Sarah Lawrence College, and others.
He lives in Brooklyn, NY, where he founded an annual children's film festival called "The KIDflix Film Fest of Bed-Stuy!," which is now in its 16th season.
 
Bianca Laureano is a Puerto Rican sexologist who identifies as a LatiNegra, media maker, radical woman of Color, activist, sex-positive, pro-choice femme. In the field of sexuality for over a decade, she has worked with organizations advocating sex-positive social justice agendas. Her work focuses on activism, Latin@ sexual health, feminisms, youth and hip-hop culture, race, curriculum development, and teaching.
Bianca earned a Bachelors from the University of Maryland in Women's Health & Latino Communities; a Masters from NYU's Steinhardt School of Culture, Education & Human Development in Human Sexuality Education; and a Masters from the University of Maryland in Women's Studies with a focus on sexuality, race and ethnicity.
She lives in New York City, where she is a professor, freelance writer, and host of the website LatinoSexuality.com.
Leah Lakshmi Piepzna-Samarasinha: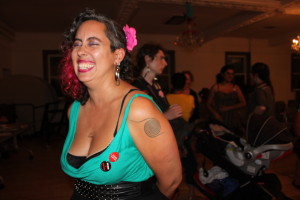 Winner of the 2012 Lambda Literary Award, Leah Lakshmi Piepzna-Samarasinha is a queer disabled femme writer, teacher, performer and healer/organizer of Burgher/Tamil Sri Lankan, Roma and Irish ascent. She walks in the legacies of her Roma great grandmother who walked out of Galicia to the Black Sea with thirteen children while healing people at her kitchen table campfires along the way and her Sri Lankan bicycle riding school teacher grandmother and great aunties who kept managing to not be arrested while enjoying sex and cute clothes. The author of Love Cake and Consensual Genocide and the co-editor of The Revolution Starts At Home: Confronting Intimate Violence in Activist Communities, her writing on femme identity, transformative justice, healing justice and queer of color lives has been widely anthologized. She is the co-founder of the queer people of color arts incubator Mangos With Chili, a lead artist with Sins Invalid and co-founder of Toronto's Asian Arts Freedom School. In 2010 she was named one of the Feminist Press' 40 Feminists Under 40 Shaping the Future and she is an 2013 Autostraddle Alternative Hot 105 member. Her first memoir, Dirty River, is forthcoming from Arsenal Pulp Press in fall 2015 and her new book of poetry, Bodymap, just dropped.
Jordan Martin: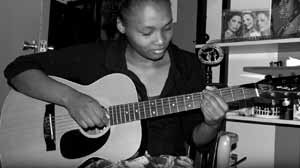 Jordan Martin is a musician, artist, and writer living in Bushwick, NY off the halsey st. J train. She is in a band called Daphne and has been playing music for 10 years. Â https://soundcloud.com/jordanamartin, Â http://jmartandmusic.tumblr.com/
Kay Ulanday Barrett: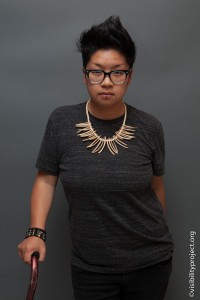 A Campus Pride Hot List artist, 2013 Trans Justice Funding Project Panelist, and Trans 100 Honoree, Kay Ulanday Barrett is a poet, performer, and educator, navigating life as a disabled pin@y-amerikan transgender queer in the U.S. with struggle, resistance, and laughter. K. has featured on colleges & stages globally; Princeton University, UC Berkeley, Musee Pour Rire in Montreal, and The Chicago Historical Society. K's bold work continues to excite and challenge audiences. K. has facilitated workshops, presented keynotes, and contributed to panels with various social justice communities. Honors include: 18 Million Rising Filipino American History Month Hero 2013, Chicago's LGBTQ 30 under 30 awards, Finalist for The Gwendolyn Brooks Open-Mic Award, Windy City Times Pride Literary Poetry Prize. Their contributions are found in Poor Magazine, Kicked Out Anthology, Trans Bodies/Trans Selves, Windy City Queer: Dispatches from the Third Coast, Make/Shift, Filipino American Psychology, Asian Americans For Progress, The Advocate, and Bitch Magazine. K. turns art into action and is dedicated to remixing recipes. See their online swerve on twitter @kulandaybarrett or his website, kaybarrett.net