This monthly series creates space for queer performers to take risks, try out new work, and co-create creative community!
Date & Time: Sunday March 1st. Doors 6.30, show 7pm.
Location:Â Branded Saloon, at the corner of Vanderbilt Ave. and Bergen St. in Prospect Heights, Brooklyn.
Accessibility info:Â Branded Saloon has a wheelchair accessible entrance and an accessible bathroom. However, please note the Peepshow does tend to get very full, and very quickly, limiting mobility within the space. In order to best secure a seat, it's advised that you arrive at least 15 minutes between door time. If you aren't able to, please feel free to message an organizer to reserve a spot! Or email us at heelsonwheelsroadshow at gmail.
We expect this Peepshow to be very full as always. Please be courteous of your fellow attendees and take care to move consciously within the space, recognizing the various ability levels in attendance
To provide a more fragrance-aware event, we request that all attendees please refrain from wearing perfume, cologne, or other scented or chemical products to the event. For more info on what that looks like:Â http://www.brownstargirl.org/blog/fragrance-free-femme-of-colour-realness-draft-15
$Cost$:Â $3-$10 sliding scale, no one ever turned away for lack of funds. Artists are paid by the door split.
Essence Revealed: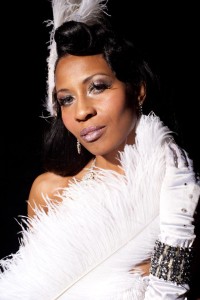 Seen all over the USA, Canada and Europe, co-producer of Shades of Burlesque – NYC's only all Black Burlesque Revue.  This Boston beauty transplanted herself  because she needed to show the world just how strong, sensuous and bold the essence of woman is.  The Bubbling Brown Sugar of Burlesque – Essence Revealed.  www.theessencerevealed.com (Photo credit: Frederick V Nielsen II)
Boy Doña:
Boy Doña is an art maker, pole dancer and party foul from Mexico City. They are a manifestation of clumsy high femme, toppling over model behaviour to crash into deeper feelings. Boy Doña is the latest personality out of the Sisterhood of the Traveling Bats, who collectively have been throwing divine tantrums on stages across the country since 2011.
Beck Heiberg:
Beck Heiberg, b. 1987 in Copenhagen, is a choreographer and dancer trained in Copenhagen, Paris and New York, where he is currently living.
Beck has a broad understanding and skills for both urban dance styles and classical styles. He is specialized in waacking and vogue, both of which are underground styles with roots in the gay scenes in the US.
Beck's most discussed themes circle around the identity search in gender. He searches the space that lies outside the boxes. He uses an experimental mix of styles to show androgynous, feminine and masculine sides in his pieces. He has worked a lot in the commercial field of music videos and concerts, but his heart lies in performance and theater. Most recently he choreographed "Boy or Girl" from the dance theater "Basic emotions" – from which he received great reviews – and dance theater "In Between", which toured Europe summer 2013.
With his new solo performance "WhoUwantMe2B" he wants to show the strength in submission and discuss gender roles in sensuality. Â beckheiberg.tumblr.com
Lydia Dresser:

Lydia AD is a low-fi//sci-fi film maker & sculptor from Indiana. She moved to NYC to attend the Cooper Union where she got her BFA. She is currently converting a small school bus with friends upstate and making a sequel to her film "Dancing Not Drowning".
Ceci Pineda: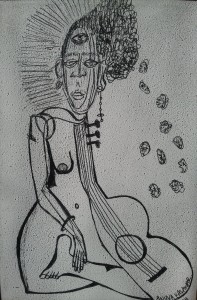 Ceci is Mexican-American, born & raised by coastlines, queer, and navigating their relationship with the feminine/masculine components they carry. They organize for climate justice and queer and trans people of color liberation. In their creative work, they find many of these identities wash away as they strive to create a space that transcends borders, and connects us with our spirits, each other, ancestors, earth, and/or universe. They are committed to using their music for healing and movement work. https://soundcloud.com/cdpineda (Image credit: Anuva Kalawar, 2014. anuvakalawar.com)