Miss Crimson Kitty is NYC's premier female drag queen taking drag culture by storm one perfected lip-synch at a time! The drag daughter of Rebecca Glasscock of Rupaul's Drag Race The Lost Season, she has created a haven for other queens at FAUXVASION which is NYC's only all female drag revue at the world famous Stonewall, and is a member of Switch N' Play, a Brooklyn born, NYC based drag alliance.
Crimson has been featured in the press such as the Huffington Post for her gender illusionist skills and is known both nationally and internationally as one of the top reigning queens in her field. She was recently crowned the winner of Dragnet Cycle 3 representing a realm of drag much overlooked in the community and aims to change the perception of drag solely based on gender.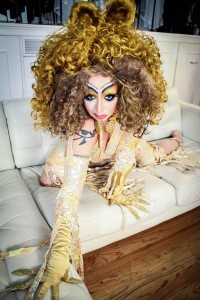 Mx. Kate McDonough is originally from the Bronx and now resides in Brooklyn. They are a tiny prancer who likes to create art that draws on the absurdities of oppressive structures. Their short film has screened at The Femme Show, Boston Gay and Lesbian Film Festival and Youtube. They've been a regular performer at Tiny Dangerous Fun, a Brooklyn based variety show and have appeared as a stage kitten and performer at New York's Butch Burlesque Show.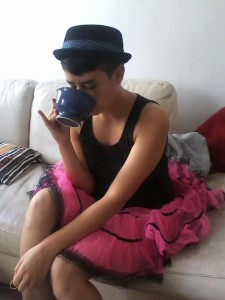 Kit Yan is a New York based spoken word artist from Hawaii. Kit performs theatrical slam poetry pieces about life as a queer, transgender,  Asian American through stories about family, love, and life.  Kit's poetry has been reviewed in New York, Bitch, Curve, and Hyphen magazines and has toured internationally with Sister Spit, The Tranny Roadshow, and Good Asian Drivers. Kit's work has recently been featured in Flicker and Spark and Troubling the Line- two new queer and transgender poetry anthologies and has a forthcoming book with Transgenre Press and a forthcoming solo theater show in NYC. Kit loves Heels on Wheels, ramen, and playing ukulele!
Jesse Graves is a mixed latin@ hard femme, multimedia artist, poet, organizer, alchemist and all around dreamboat from Queens, NY (718 GET THE MONEY). Their hobbies include having feelings, eating brunch, chilling hard, time travel and moisturizing. Jesse's first chapbook, "Broken Back/ Salten Seas", is scheduled for release in July 2015.
Devyn Mañibo is a mixed Pinay femme, and diasporic interdisciplinary artist. She creates and collaborates as a means of cultivating space for resistance, survival, and love for and by her communities. She can usually be found race raging, shade bending, and averting your settler colonial gaze with a resting glare of displeasure.