Opentoe Peepshow #25: Kia LaBeija & Lion, sassaBrass: The Poom Poom Priestess, Liz Latty, Mariama Lockington, & Rachel Messer!!!
The Opentoe Peepshow is a monthly salon that reveals new work by queer artists the first Sunday of every month in Brooklyn, at the Branded Saloon.
"Better than Broadway!" – Kama La Mackerel
Doors 6:30 / Show 7pm sharp/ $5-10 sliding scale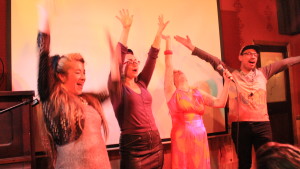 Venue: Branded Saloon, 603 Vanderbilt Avenue @ the corner of Bergen St. Accessibility info: Branded has an ADA compliant entrance and washroom. It's a bar …w no bouncers on Sundays. Pls contact us with any questions.
Come early for Branded's DELICIOUS BRUNCH and enjoy food + drinks throughout the show! Remember, supporting Branded Saloon supports us!*
**ACCESSIBILITY:**
Branded Saloon has a wheelchair accessible entrance and an accessible bathroom, both ADA compliant. However, please note the Peepshow does tend to get very full, and very quickly, limiting mobility within the space. In order to best secure a seat, it's advised that you arrive at least 15 minutes between door time. If you aren't able to, please feel free to message an organizer to reserve a spot! Or email us at heelsonwheelsroadshow@gmail.com.
We expect this peepshow to be very full as always. Please be courteous of your fellow attendees and take care to move consciously within the space, recognizing the various ability levels in attendance
To provide a more fragrance-aware event, we request that all attendees please refrain from wearing perfume, cologne, or other scented or chemical products to the event. For more info on what that looks like: http://www.brownstargirl.org/blog/fragrance-free-femme-of-colour-realness-draft-15
*Please no outside food or drink in the venue. Branded is a very generous host, so we want to respect their wait staff and business. Thanks!
Mariama Lockington:
Mariama Lockington calls many places home but currently lives in Fort Greene, Brooklyn. She is published in The Comstock Review poetry journal (2009), Sparkle and Blink Issue 3.8 (July 2012), Uncommn Core: Contemporary poems for learning and living (Red Beard Press, 2013) and is a San Francisco Literary Death Match champion (Episode 46).
Mariama performs her work around the country and teaches writing workshops for various youth organizations. She holds a Masters in Education from Lesley University and an MFA in Poetry from San Francisco State University. When she is not writing or teaching, you'll find Mariama singing Karaoke, watching Buffy the Vampire Slayer, or re-reading her favorite book, Sula by Toni Morrison.
sassaBrass: The Poom Poom Priestess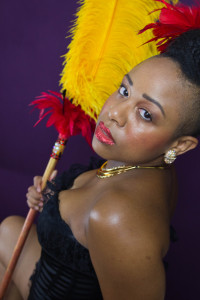 sassaBrass is a pleasure-filled healer who uses the ritual of performance to deliver the gospel of the pussy. The pussy is magic, is medicine, is gold, is divine, is an entrance and an exit — an opening to the deepest, most sacred spaces of women's ancestral knowledge. The pussy gospel is ancient. sassaBrass is the messenger, the vessel. Twerking is the testimony — cuz the booty don't lie! Welcome to church where we pussy pop for praise and worship in the service of our freedom and liberation. Ase.
Kia LaBeija & Lion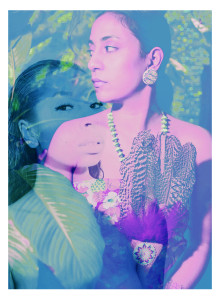 Like the midway ocean when it meets an erupting volcano they collide.
And in the most decadent violence they begin to dance until the water has turned the volcanic lava into precious stone.
Liz Latty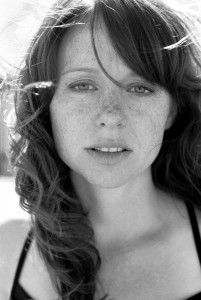 Liz Latty is the author of Split (Unthinkable Creatures Press, 2012). Her poetry and nonfiction can be found in make/shift magazine, The Feminist Wire, Jupiter 88, HOLD: A Journal, and the Seal Press anthology We Don't Need Another Wave: Dispatches from the Next Generation of Feminists, among others. She is a Lambda Literary Fellow and has been nominated for a Pushcart Prize, as well as the Jackson, Phelan, and Tanenbaum Literary Awards from the San Francisco Foundation. She earned her MFA in creative writing from Goddard College, teaches in Manhattan, and lives in Brooklyn.
Rachel Messer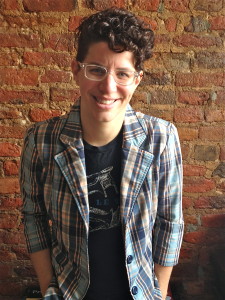 Rachel Messer likes to play with words, guitar chords, metaphorical and literal characters, and the bits of her memory that get stuck, cycling, like a broken washing machine. She is soooo grateful and humbled by the incredible performers she's seen at Opentoe, and honored to be a part of this month's line-up. She is open to feedback and other ponderances at:Â messer.rachel@gmail.com, or in real life!