Sunday Oct 13 @ the Branded Saloon is the first Salon of the 2013-2014 season! Featuring these amazing artists: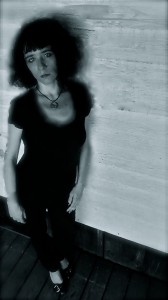 Michelle Embree is the author of Manstealing For Fat Girls, a young adult novel nominated for a Lambda Literary Award in 2006.  In 2009 Michelle's two-act play, Hand Over Fist, took first place in the Saints and Sinners Literary Festival's national playwriting competition and received a full production. She earned her MFA in writing from Goddard College in 2010. Michelle has toured the US many times over because she is fond of misadventure and secrets of any and all kind.
ALTERCATION DREAMER SOLUTIONS is a life-artist, a dance instructor, and a song writer who's passions have led them to experience the world through travel, conversation, and pure experiment. They have been teaching since 2007 in places as varied as the bathroom at a club and, thanks to touring with Bounce phenomenon Big Freedia, to places such as the University of Melbourne and Tulane. Altercation encourages all to see themselves as a future historical figure who changes the way we interact and develop.
Michelle and Altercation will be presenting from their full-length work: Spell of Bones.
Katrina De Wees is a Brooklyn born and based multimedia performance artist and choreographer. Since embarking on a self-designed major at an experimental liberal arts college, she began and continues to study Black Performative Arts as Liberation. In the Jazz Aesthetic tradition, she has shown work on theater stages, in studios and on public streets locally and abroad exploring subjects such as intergenerational trauma in black matriarchal lineages, the legacy of rape and slavery, gentrification in Brooklyn, meditations on time in ephemeral presence, and orisha devotion, wellness and spirituality in the face of destruction. As a cultural worker, she practices curation, dramaturgy, and arts education. Katrina was a member of the 2011 EMERGENYC artivist program based at the Hemispheric Institute at NYU. She is currently an associate artist with The Body Ecology Performance Ensemble.
Angel Nafis is an Ann Arbor, Michigan native and Cave Canem Fellow. Her work has appeared in FOUND Magazine's Requiem for a Paper Bag, Decibels, The Rattling Wall, Union Station Magazine, GirlSpeak Webzine, The Bear River Review, MUZZLE Magazine, and Mosaic Magazine. In 2011 she represented the LouderArts poetry project at both the Women of the World Poetry Slam and the National Poetry Slam. She is an Urban Word NYC Mentor and the founder, curator, and host of the quarterly Greenlight Bookstore Poetry Salon reading series. She is the author of BlackGirl Mansion (Red Beard Press, 2012) She lives in Brooklyn where she listens to Prince and Queen while eating oatmeal first thing in the morning.
Red Durkin is the managing editor of PrettyQueer.com and one the most promising young queer comics in the country. She has toured extensively as part of the Tranny Roadshow, performed at Camp Trans and the Transgender Leadership Summit and was a member of the Fully Functional Cabaret. She has written 9 zines, was featured in the final issue of Punk Planet magazine and Topside Press's The Collection: Short Fiction from the Transgender Vanguard. Her work on Youtube has reach over 100,000 views and has appeared in classrooms and boardrooms nationwide. Her upcoming novel, Ready, Amy, Fire is scheduled to be published by Topside Press summer 2013. Born in Indian, Alaska and raised in Raleigh, North Carolina, Red currently lives in Brooklyn, New York.
Monica Ellis is a queer multimedia artist, activist, and filmmaker whose work spans several different media, ranging from street art, performance, and photography, to animated and live action short film. She graduated Magna Cum Laude with a BFA in painting and animation from Trinity University and the Savannah College of Art and Design in 2010. She has received scholarships to study with public intervention contemporary dance artists as well as artivists with the Hemispheric Institute for Performing Arts and Politics. She helps produce media and film for free network, social justice, environmental campaigns and mobilizations across the United States and is currently a collaborator with NYC based hybrid arts and activist collective Not An Alternative.
Date & Time: First Sunday of each month [except October 13], Doors 7, show 7:30 [we tend to sell out so come on time!]
Location: Branded Saloon, at the corner of Vanderbilt Ave. and Bergen St. in Prospect Heights, Brooklyn.
Accessibility info: Branded has a wheelchair accessible side entrance and washroom. It's a bar … but there are no bouncers on Sundays. Please contact us with any questions.
$Cost$: $3-$10 sliding scale, no one ever turned away for lack of funds. Artists are paid by the door split.
This event is volunteer-run, volunteer-staffed, and volunteer-curated.