Sunday June 2, 8pm *sharp* @ Branded Saloon. $3–10.
THE FINAL OPENTOE PEEPSHOW OF THE 2012-2013 SERIES features Danielle Abrams, Chavisa, Sequinette, Heather Acs, Alejandro Rodriguez & Felice Shays!
Danielle Abrams' performances are assembled atop a lineage of Jewish bubbies,a black Southern matriarchy, and a grandfather who was a poolside tummler at a Catskills' resort. As these characters, Danielle has performed in front of a Brighton Beach Key Food while conversing with a Jewish community of senior citizens… at an outdoor wedding where she delivered schmucky one-liners and bathed in a 25-gallon tub of borscht… and at a street fair where she taught the Macarena while distributing chocolate and TUMS.  Danielle's work produces a hybrid blend of writing, personae, and performances that reshuffle the limits of races, cultures, genders, and the sanctity of kin. Danielle Abrams has performed for 20 years at art spaces and museums that include the Queens Museum, the Jewish Museum, Bronx Museum of the Arts, Detroit Institute of the Arts, The Kitchen, Dixon Place, Rush Arts Gallery, and WOW Café Theater.  Her performances have received support from the Franklin Furnace Fund for Performance Art and the New York Foundation for the Arts.  She teaches at the MFA Program in Interdisciplinary Arts at Goddard College; art at York College (CUNY); and writing at College of Staten Island.
Felice Shays has been performing on stage and in film for over15 years.  Her shows demand that she hangs from the ceiling, singing, reveal some not so pretty aspects of the human condition, and shove her fist into uncommon places…something akin to her life off stage as a political Jewish queer Femme, and a no-holds barred Sex Educator.
Felice's one-woman shows, including "Felice Brutality", "PsychoSemitic", and "The Temporary Flesh", and other performances have been wildly received at theaters, festivals, and clubs across the continent including New York City, San Francisco, Portland, OR, Toronto, and Baltimore. www.FeliceShays.com
Chavisa Woods [bio forthcoming]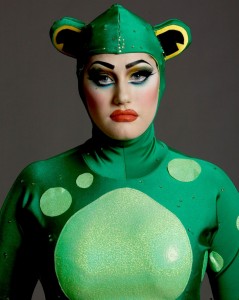 Sequinette is called a "Drag Impresario" by the New York Times and a "Dolly Parton-esque beauty" by the Village Voice, Sequinette is one of the most stylized of NYC's "Female to Female Drag Queens."   She calls herself "Purely Decorative" and relies on fine couture costuming in drag performances that contain elements of burlesque.  She was crowned Miss LEZ 2008 in Murray Hill's queer beauty pageant,  and also starred in Michelle Handelman's film Dorian in 2009.  She co- produced the multi-media queer dance party "Love Muscle," and also produced Coney Island's first ever full fledged drag show, "Hollywood Bitches."  Sequinette is also an installation artist and has installed vignettes at various events including Click + Drag, I LOVE ME! A Tribute to Liz Renay (sponsored by Deitch Projects),Inner Beauty Parlor Salon and Susanne Bartsch New Years at the Delano Hotel in Miami. Her latest achievement is being crowned Miss Drag Coney Island 2012.   She has performed at various venues including Slipper Room, Galapagos, Burlesque at the Beach, Stonewall, The Cock, Santo's Party House, Joe's Pub, The Rainbow Room, Shanghai Mermaid and Webster Hall. ]
Heather Acs [bio forthcoming]
Alejandro Rodriguez [bio forthcoming]