Heels on Wheels presents… Opentoe Peepshow: Revealing New Work by Queer Artists
Featuring: Lez Miz, Richard Aviles, Ronika McClain, Dynasty (W)rex, Zachary Wager Scholl
Facebook event: https://www.facebook.com/events/485185538263673
Time & Cost: Sunday Nov 3, doors 7p, show 7:30p *sharp* — we sell out so come early! $3-$10, no one turned away for lack of funds // this event is volunteer-run and the door split supports artists directly.
Venue: Branded Saloon, 603 Vanderbilt Avenue @ the corner of Bergen St., Brooklyn, NY 11238.Accessibility info: Branded has a wheelchair accessible entrance and washroom. It's a bar … but there are no bouncers on Sundays. Please contact us with any questions.
Dynasty (W)Rex is a black dyke stripper from hell. She has been in The Industry for almost 5 years.
Zachary Wager Scholl is an unabashedly flagrant artist, community organizer, gogo boy, ex-funeral home greeter, and can't stop hanging out in public bathrooms. Zachary is most recently an alum of EMERGENYC, an emerging artists program of the Hemispheric Institute of Politics and Performance. Long-term projects include: Angry Women REvisited, with J. Dellecave and company; his work with the Man Meat Collective; playing with the Rude Mechanical Orchestra; and creating transgressive political queer Purimshpiln with the Aftselokhes Spectacle Committee.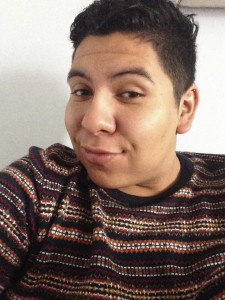 Richard Aviles is young Angelino native, community organizer and movement creator. His journey into dance began at a young age through Latin Social Dance. Aviles constantly seeks ways to find movement that is authentic to all of his identities and skins. Aviles' goal as a movement artist is to create work that inspires and empowers others to become activist in their lives; such aspirations stem from his background in community organizing and passion for queer theory. While at St. Olaf Aviles has focused on choreographing pieces that convey queer narratives and his latin movement history.
Lez Miz [selection] Identity crises! Moral conflict! Unrequited love! Requited love! Revolution! It's amazing how much an old French novel can have in common with 21st century dyke drama. Inspired by the nineteenth century classic, Les Miserables, this original play gives Victor Hugo's characters and plotlines a contemporary queer spin. Lez Miz follows leather daddy Jean Valjean on her flight from old identities and her quest for redemption. Along the way, she navigates a tangled polyamory battlefield with Cosette and Marius the trust-fund revolutionary… and everyone must choose whether love or the revolution will win the day.