Day four of tour!
So far we've done three shows and are on our way to a fourth; by the time you read this, we'll be 44% done tour. [Because we're doing 9 shows this year, in solidarity with our people in the 99% we're not counting the last 1%.]
Our first show was at Hampshire College, under a glorious full moon, because the goddess loves us. We were in a "doughnut" — the center of a special kind of dorm called a mod, where we got christmas lights and danced after the show.
The people who brought us took wonderful care of us, and even brought us to a house party afterwards, where we Femmed That Dorm Party by showing up en masse with some badass students.

On Saturday, we got to Providence and were greeted at the coffee shop we stopped in by beautiful posters for our show before we headed to YPI, a youth center for a workshop.
We got to the venue just in time for a feast made of locally grown vegetables
and handmade tortillas, and kicked it in the Secret Location until 100+ people showed up for the show/dance party…but not before Mommy Complex brought the discipline to the stage.
The Fuschia is Now, and especially Ian Covens, really made this an awesome show: the event's dress theme was gay americana, and we put on our best and danced until 3:30am, a very New York hour. **donors get to see special pictures of Heels on Debauchery** and that's all I'm gonna say.
Sunday AM we brunched on extra Passover food and then went to the  Dirt Palace, a DIY, feminist artists' live/work space and got a tour from Xander, one of the founding artists. Where's ours? It's out there…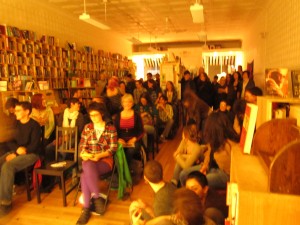 Later we drove the whole 1.5 hours to Boston and arrived at Lorum Ipsum Bookstore, where the Paper Cut Zine Library hosted us for our show. Local, indie, used, radical — folks these bookstores are some of the few places left in America where Google is not invading our brains. Go. Buy Shit. Volunteer!
Next up! Jersey City, Baltimore and then the University of Maryland and a local DC show!