The last three days have been so exciting: we were in Jersey City, Baltimore and at the University of Maryland. We also got to hang out with friends in Baltimore and fulfil one of Damien's life dreams: a VAN on VAN photoshoot!
We've determined that one of the themes of the tour has been ALLIES: straight allies, masculine allies, artist allies, radical allies …folks across the Northeast and Midatlantic are reaching out, helping out, participating, and taking care of us.
Our pieces are also touching on the other theme of the tour, FEELINGS! All our performers are telling stories in different ways and all these stories evoke feelings.
Heather's piece is about presence, creative acts of survival, and our collective root in stardust.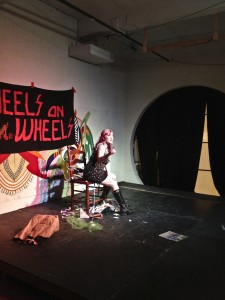 Geppetta's piece uses a tumbling teacup to examine mental health and mind-mapping.
Shomi talks about the wretched feelings of teenagehood and her ways of finding herself.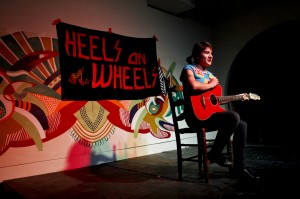 Damien's piece uses creative, physical acts of resilience to explore healing from dissociation.
Najva looks at the artistic process, breakups and first times — and the surprises and pitfalls of all these.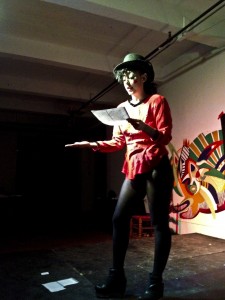 And we're supported awesomely in our touring by violinist/merch-babe/yoga-teachervan-driver Lizxnn Disaster.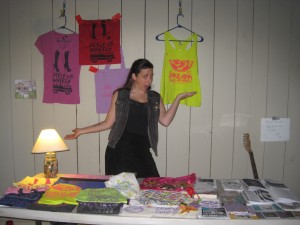 There's a LOT more photos here — check them out.
Things are going so awesome, we really hope that folks in DC, Philly and NYC get a chance to come out to our last three shows! The events are:
DC 4/12 @ The Center at 7:30pm
Philly 4/13 @ Vox Populi @ 8:30pm
NYC 4/14 @ The Spectrum @ 8:30pm
You can support us by getting art or tshirts — and get presale tix — at our kickstarter, which has three more days on it and is almost completed — but we still need a lil more help!!