Opentoe Peepshow #14 features Yumi Tomsha, Jes Tom, Micah Turner, Megan Falley, Miss Mary Wanna & Benjamin Lundberg (film) Â 
Sunday March 2, 2014 7:30pm, at the Branded Saloon in Brooklyn!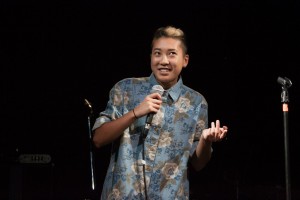 Jes Tom is a comedian and actor based in New York City. Jes is a new voice in stand up comedy, gleefully providing the genderqueer Asian American radical separatist perspective that everyone never knew they wanted. A San Francisco native, Jes has performed alongside prominent West Coast personalities Marga Gomez, D'Lo, and The Zodiac Killer (he was never caught, so this might be true). Since coming to NYC, Jes can be found scowling in the corner at comedy open mics all over Manhattan, at their day job selling dildos to the wealthy, and in their pajamas at 2pm, having just woken up. https://twitter.com/jestom_
Megan Falley is a full-time writer, performer, and a two-time winner of the Write Bloody Open Book Competition. Her first full-length collection of poetry, After the Witch Hunt, was published in 2012. Her forthcoming collection Redhead and the Slaughter King is slated for publication in Fall of 2014. Falley was featured on TV One's Verses & Flow, a television show dedicated to showcasing the best in spoken word. In 2012 she represented NYC at the National Poetry Slam as part of the LouderArts Team. Her work has appeared or is forthcoming in The Rattling Wall, The Uncommon Core, and a party of online journals. Falley teaches an online poetry course called "Poems That Don't Suck" dedicated to improving the craft of aspiring writers. In 2012 she toured the country and Canada for 100 days in her car reading poems. She lives in Brooklyn with a dog named Taco.
Yumi Tomsha is a queer Japanese American singer,voice teacher, and sound healer living in Brooklyn.  A graduate of UC Berkeley and the Longy School of Music, Yumi is dedicated to sharing her voice through performances, workshops, and sound healing sessions. She gave her New York debut recital in 2008 at Bargemusic, the magical 'floating concert hall.' She has performed in venues including Davies Symphony Hall, the Asian Art Museum of San Francisco, the Red Poppy Art House, the New York Society for Ethical Culture, and has also performed in Brazil and Japan. During the course  of her versatile career she has also led a singing group for elders; organized music instructions programs in New York City schools; and offered sound healing workshops to femmes of color. Yumi is currently working on her solo debut album.
.
Micah Turner: "I was born in Reno Nevada a town that I now lovingly refer to as a suburb of Burning Man (a massive art festival in the Nevada desert). Burning Man's philosophies have transponded through to much of my moral beliefs and activist works. I believe in a better world were people are loved for who they are and treated as equals among all others. People familiar with my activism know me as the AWOL SGT who abandoned his post to speak out against the wars. But now I want the world to hear me roar "I am Queer, I am imperfect and I am beautiful. We are all a little strange at times but what makes us different is what makes humanity beautiful." Now I'm ready to let the world hear my voice as it never has."
Miss Mary Wanna, patron saint of all that is sweet and sticky…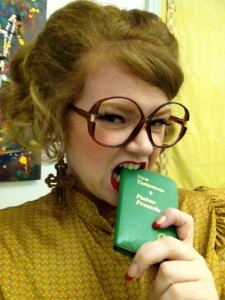 It's no coincidence that a heat wave hit Philadelphia the same weekend this lil' lady left her home for a taste of city living! She hails from the hills of North Carolina via the glittering sands of the Gulf Coast. Miss Mary now finds herself shaking it in the city of Brotherly (and sisterly!) Love, oozing southern charm and uncompromised sexuality on stage and off. Raised on pork and beans and rock and roll, she has influences all over the map. Miss Mary is known for infusing traditional burlesque with a heaping spoonful of gravy-drenched drrrty from the sweaty south. This vixen is never hesitant to add a little jiggle to any bill, but is most often found shaking it in queer spaces. So get out your church fans to cool off… Miss Mary Wanna is ready to blow your mind and get you high.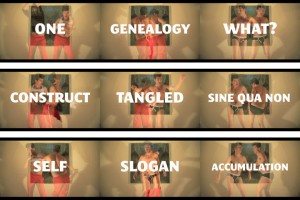 Benjamin Lundberg is a Colombian, New York City based performer. Lundberg creates shared spaces of inquiry by lending his body and personal archive as a site through which viewers channel, refract and transmit their own desires to collaboratively conjure messages and meanings about identity. His work has appeared in spaces including the Hemispheric's 2013 Encuentro in São Paulo, live streamed from the Fitness Center for Arts and Tactics in Bushwick to El Bunker in La Paz, Villa Victoria Center for the Arts in Boston, Brooklyn International Performance Art Festival, Panoply Performance Laboratory, Bowery Poetry Club, and the Morgan Library & Museum. He is a 2014 Artist in Residence at AS220 in Providence, a founding member of the EmergeLAB @ BAX, and is a member of the 2012 EMERGENYC cohort at the Hemispheric Institute of Performance & Politics.