Sunday March 3, 7pm doors, 7:30 show
Location: The Village @ Gureje, 886 Pacific St, Brooklyn, NY 11238. Between Washington & Underhill, enter thru the little shop!

FB event: https://www.facebook.com/events/380338642065410
MERRIE CHERRY sparkingly leads the monthly drag night at the Metropolitan Bar in Williamsburg, BK!
CRISTY C. ROAD is a Cuban-American Artist and Writer. Blending her political principles, sexual identity, and social inadequacies- Road lives to testify the beauty of the imperfect. Her endeavors in illustrating and publishing began when writing a punk rock zine, Greenzine, for ten years. The eventually included narratives on race, gender, and eliminating oppression the punk and activist communities. She resumed to illustrate countless record album covers, book covers, political organizations, magazine articles, and more. Road has published an illustrated novel about high school, mental health, sexuality, and Miami entitled INDESTRUCTIBLE, a postcard book entitled DISTANCE MAKES THE HEART GROW SICK, and BAD HABITS, an Illustrated love story about healing, drugs, gay nightlife, and her telepathic connections to the destruction of New York City.  Road's work has also been featured in the Baby Remember My Name: New Queer Girl Writing Anthology, Live Through This Anthology, Reproduce and Revolt, and countless other published works. She's toured nationally and internationally on her own, and with SISTER SPIT, an all-queer spoken-word road-show. She is currently working on a TAROT CARD DECK with Author, Michelle Tea and her band, THE HOMEWRECKERS. Her latest novel, SPIT AND PASSION (A graphic novel about coming out, maintaining her Cuban cultural roots, and an obsession with Green Day) is due out on Feminist Press in the fall. She hibernates in Brooklyn, NY.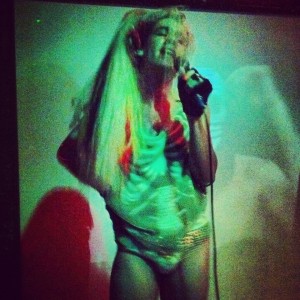 Lotus eater machine is a queer dance punk collective currently working out of new york city.  by exploring the nature of ritual as simultaneously a product of collective memory, individual experience, and cultural context, the group works to reframe queer identity politics as a dynamic and ongoing dialogue, acknowledging the frequent tension between fulfillment of the individual self as a fully realized/differentiated sovereign entity and coexistence within a more expansive view of sustainable, interdependent communities/cooperative individuals holding their own agency.
SILAS HOWARD (writer, director, musician), co-directed his first feature, By Hook Or By Crook, with Harry Dodge. The indie classic was a 2002 Sundance Film Festival premiere and five-time Best Feature winner. See a preview here. Howard's next feature film in development, Exactly Like You, (co-written with Nina Landey) is based on the life of Billy Tipton. What I Love About Dying, Howard's short documentary based on Kris Kovick, premiered at the 2006 Sundance Film Festival. You can check out Howard's music videos, short musical and documentaries which have aired on MTV and LOGO networks and at Disneyland, Anaheim.
For eight years, Howard toured with his band Tribe 8, the notorious queer punk band (a band boycotted by republicans and women at Michigan womyn's music festival). The band has been featured in Rolling Stone, The Village Voice, and The Los Angeles Times. Howard's writing is also featured in the anthologies, "Without a Net: Growing Up Working Class" and "Live Through This," as well as the artists' journal, "LTTR." Silas intervewed on Live Through This. Currently Silas is working on a novel set in San Francisco's mid-90′s homocore scene.