Sunday Feb 3, join the Heels on Wheels folks as we present five queer performances at the fifth opentoe peepshow!
Location: The Village @ Guerje [aka the Yes Ma'am space] on 866 Pacific Ave., between Washington & Underhill in Prospect Heights, Brooklyn.
Time: Doors 7p, show 8p, Q&A 10p.
Cost: $3-10.
Performers: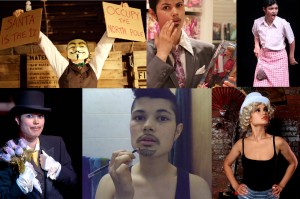 Cal Trumann has been performing drag professionally since 2007, and lip-synching in strange outfits onstage and in living rooms since childhood.  Liminal states of identity make up the bulk of Trumann's work, drag and otherwise: a transgender, mixed-race, queer from the woods living in the big city, Trumann takes their role as a bridge and a jester very seriously, but tries to keep seriousness out of their performance.  Trumann's alter ego LeRoi Prince can be followed on Facebook & Tumblr: leroi-prince.tumblr.com
Emmet Rugburn has been prancing around Brooklyn for the last 7 years. He has pranced on or near a number of stages, mostly with a musical instrument on or behind him, and is incredibly pleased to prance around an instrument-free stage in Brooklyn for the first time ever at Open Toe Peep Show. An enthusiastic feminist, Emmet's work attempts to explore concepts of family/love, mortality/health and the ridiculousness/silliness of it all.
Glittered and Mauled is a queer, anti-folk band with a cabaret influence. Both cheeky and macabre, Glittered and Mauled has a sound that has been described as dark, ferocious, heartfelt, and swelling. Glittered and Mauled is comprised primarily of two best friends, Tova Katz and Rose Emily Quinn, but is often accompanied by various rascals around Brooklyn. They've played dozens of shows raging from the gutters of the Gowanus to the Brooklyn and Manhattan stages.
Sabina Ibarrola is a dancer, bruja, and burlesque artist on the path towards becoming a writer and healer, too. She is an alumna of the New York School of Burlesque and The Femme Show. Sabina performs regularly in New York and anywhere else they'll let her onstage. Ask her about the glitter in her Diva Cup.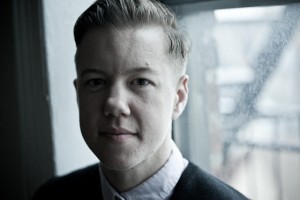 Jaime Shearn Coan lives in Brooklyn, New York, teaches creative writing and literature at The City College of New York, and leads writing workshops through the NY Writers Coalition. His poems have appeared in journals including the Mississippi Review, Drunken Boat, and The Portland Review and are forthcoming in Troubling the Line: Trans and Genderqueer Poetry. His artist book, dear someone, the product of a collaborative queer letter-writing project, is distributed through Printed Matter. Jaime has been awarded fellowships at the Virginia Center for the Creative Arts, Saltonstall Arts Colony, Lambda Literary Foundation, Tin House Writers Workshop, and Poet's House's Emerging Poets Fellowship.