Organizer Alumni
Jade Payne :: Sound Tech, Project Management
Shomi Noise :: Sound Tech, Photographer, Glitter Roadshow Tours 2011-2014
****************************
Our touring troupes are a combination of core members and satellite members. Below, see the wonderful satellite stars who have participated in our tours:
GLITTER ROADSHOW V: US & Canada Northeast
GLITTER ROADSHOW IV: West Coast
HEELS ON WHEELS ROADSHOW III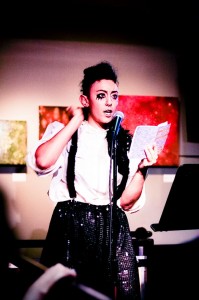 Najva Sol is a Iranian-American writer, photographer, multimedia artist, and performer.
She was born in the DC area, and moved to NYC at the impressionable age of 17 to receive her BA from the New School. Subsequently, she tried to get her MFA at CCA in SF but found it more poetic to drop out. In 2008, she co-founded an artist collective called The Lowbrow Society for the Arts in NYC, where she curated various underground events, including a renegade art show on a subway car and (most recently) the Gowanus Art Fair. She is currently helping produce vintage inspired parties at Gemini & Scorpio and just finished a one-month artist residency at Elsewhere Collaborative in Greensboro, NC.
Her writing has been published in "Love, InshAllah: The Secret Love Lives of American Muslim Women", Bitch Magazine, Look Look Magazine, AM New York, and a variety of places you might stumble upon in some young poet's library.  Her fine art was recently featured in the National Queer Arts Festival (2010 + 2011), Femina Potens Gallery, Commonwealth Club, The Nuyorican Cafe, The Red Poppy Art House, Artisphere, and most importantly in Autostraddle's list of "100 queer women artists in your face!"  Lowbrow Society has appeared in Nerve.com, New York Press, San Francisco Bay Guardian, Paper Magazine, and Time Out New York.
Her web presence hub is Najvasol.Wordpress.com.
---
HEELS ON WHEELS ROADSHOW II
Amanda Cheong comes from [and has returned to!] the land down under, where the women glow and the men plunder. Currently an alien based in New York, this she-stache wielding ghey has taken a break from riding kangaroos and hanging out with Koalas to bring some aussie performance to your shores.
Joining the Sydney queer performance scene in 2007, Amanda brought politics to the stage with her weird and quirky shows. Disgusting, astounding and humoring audiences till they screamed for more.
Over the years he has performed at numerous Sydney events such as Gurlesque, Queer Central, The Pussy Cat Club and the Red Rattler, confronting viewers with her dandy ladyboy ways.
---
HOW To Build A Fire 2011
Jordan Arsenault & Laura Boo
---
HEELS ON WHEELS Roadshow I
2010: Princess Tiny & the Meats || Sequinette || Laurence
Sequinette called a "Drag Impresario" by the New York TImes and a "Dolly Parton-esque beauty" by the Village Voice, Sequinette is one of the most stylized of NYC's "Female to Female Drag Queens." She was crowned Miss LEZ 2008 in Murray Hill's queer beauty pageant, and also starred in Michelle Handelman's Dorian in 2009.
Chicago is a solo artist who performs as Princess Tiny and the Meats. Their debut electronic album, "Will S UR D 4 Coin" was released Fall 2010. [check it out!] Their music brings awareness and education to a broader audience about queer culture. Princess Tiny and the Meats also performs acoustic songs on guitar and piano in a theatrical fairy tale called "Confessions of a Love Sick Teenager".
Laurence is a trilingual femmeboy beast from Montreal. They DJ as DJ It Gets Better and were of great help as roadie on the 2010 tour.
---
HOW TO BUILD A FIRE Workshop & Performance Series 2010
Silas Howard 2010-2011 || Leah Lakshmi 2010

LEAH LAKSHMI PIEPZNA-SAMARASINHA is a Worcester raised, Toronto matured, Oakland-based queer Sri Lankan writer, performer and teacher. She is the 2009-10 Artist in Residence and part-time professor at UC Berkeley's June Jordan's Poetry for the People and the co-founder and co-artistic director of Mangos With Chili, North America's only touring cabaret of queer and trans people of color performing artists. She is a 2009 commissioned performer with Sins Invalid, the national performance organization of queer people with disabilities and chronic illnesses. Her one woman show, Grown Woman Show, has toured nationally, including performances at the National Queer Arts Festival, Swarthmore College, Yale University, Reed College and McGill University. The author of Consensual Genocide, her writing has appeared in the anthologies Yes Means Yes, Visible: A Femmethology, Homelands, Colonize This, We Don't Need Another Wave, Bitchfest, Without a Net, Dangerous Families, Brazen Femme, Femme and A Girl's Guide to Taking Over The World. She is finishing her second book of poetry, Love Cake, and her first memoir, Dirty River and is happy about the forthcoming publication of The Revolution Starts At Home: Transforming Abuse Through Community Accountability, which she co-edited with Ching-In Chen and Jai Dulani, by South End Press in 2010. She holds an MFA in Creative Writing from Mills College, focusing on creative nonfiction and community-based teaching by writers of color.
—————-
SILAS HOWARD (writer, director, musician), co-directed his first feature, By Hook Or By Crook, with Harry Dodge. The indie classic was a 2002 Sundance Film Festival premiere and five-time Best Feature winner. See a preview here.
Howard's next feature film in development, Exactly Like You, (co-written with Nina Landey) is based on the life of Billy Tipton. What I Love About Dying, Howard's short documentary based on Kris Kovick, premiered at the 2006 Sundance Film Festival. You can check out Howard's music videos, short musical and documentaries which have aired on MTV and LOGO networks and at Disneyland, Anaheim.
For eight years, Howard toured with his band Tribe 8, the notorious queer punk band (a band boycotted by republicans and women at Michigan womyn's music festival). The band has been featured in Rolling Stone, The Village Voice, and The Los Angeles Times.
Howard's writing is also featured in the anthologies, "Without a Net: Growing Up Working Class" and "Live Through This," as well as the artists' journal, "LTTR." Silas intervewed on Live Through This. Currently Silas is working on a novel set in San Francisco's mid-90's homocore scene.