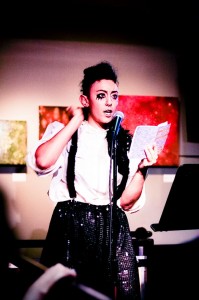 Najva Sol is a Iranian-American writer, photographer, multimedia artist, and performer.
She was born in the DC area, and moved to NYC at the impressionable age of 17 to receive her BA from the New School. Subsequently, she tried to get her MFA at CCA in SF but found it more poetic to drop out. In 2008, she co-founded an artist collective called The Lowbrow Society for the Arts in NYC, where she curated various underground events, including a renegade art show on a subway car and (most recently) the Gowanus Art Fair. She is currently helping produce vintage inspired parties at Gemini & Scorpio and just finished a one-month artist residency at Elsewhere Collaborative in Greensboro, NC.
Her writing has been published in "Love, InshAllah: The Secret Love Lives of American Muslim Women", Bitch Magazine, Look Look Magazine, AM New York, and a variety of places you might stumble upon in some young poet's library. Â Her fine art was recently featured in the National Queer Arts Festival (2010 + 2011), Femina Potens Gallery, Commonwealth Club, The Nuyorican Cafe, The Red Poppy Art House, Artisphere, and most importantly in Autostraddle's list of "100 queer women artists in your face!" Â Lowbrow Society has appeared in Nerve.com, New York Press, San Francisco Bay Guardian, Paper Magazine, and Time Out New York.
Her web presence hub is Najvasol.Wordpress.com.